The English Magic Tarot Review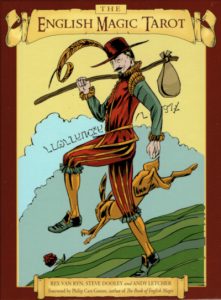 I collect tarot cards and the English Magic Tarot cards got my attention as I was browsing through Amazon. The artwork was eye-catching and so was the price – just $10.60! That alone made it worth a closer look as you don't get much for that sort of price nowadays.
I thought "why not?" and promptly ordered them. The cards arrived in a high-quality box and I eagerly opened it to see exactly what I had bought!
A nicely printed paperback book of 149 pages (160 if you include the non-numbered pages!) was inside. It contained descriptions and interpretations for all 78 of the cards.
I firmly believe that we have some of the best tarot card definitions available anywhere here on Tarot Time. The quality of the writing was better than expected and definitely a cut above average. It would prove useful to most readers and was a pleasant surprise.
The English Magic Tarot deck comprises of 78 cards as you would expect. Jokers are included for those of you who actually use tarot cards for game playing. The four minor arcana suits are bordered in four different colors. The cards themselves are very interesting graphically and according to the blurb are based explicitly on the "English magical tradition."
Physically the cards measure 2.9 inches (75 mm) wide by 4.75 inches (120 mm) in length. This makes them somewhat larger than the average playing card but not so large they can't be shuffled. If you haven't used cards this big before though, you may find shuffling a little awkward at first.
The card stock used is my only quibble with the cards. Whereas they are not paper thin they are thinner than I would like. I would rather have paid a couple of dollars more and had thicker cards. Having said that, if you treat your cards with respect you really shouldn't have a problem.
Overall
The English magical tradition allegedly forms the basis for these cards. I can't vouch for that claim but they certainly look the part. Most people, I believe, will find this an attractive and easy to use deck. I say "easy to use" because not all decks are. The cards are suitable for all skill levels and having tried the cards out I consider them accurate in use.
All in all I consider this deck a worthy addition to my collection. And at the price there will be very few decks that can beat it!
The English Magic Tarot – Review by Paul (Admin)
See the English Magic Tarot on Amazon
Disclosure: Tarot Time is a website that features professional reviews. As such we may receive compensation from the companies whose products we review or companies that sell those products.
What does this mean? Take this review for example; the views and and/or recommendations are purely our own. We do not get paid for the review itself nor is an item supplied in exchange for that review.
Should you click on the product link and subsequently make a purchase we may be paid a referral fee by the website concerned.